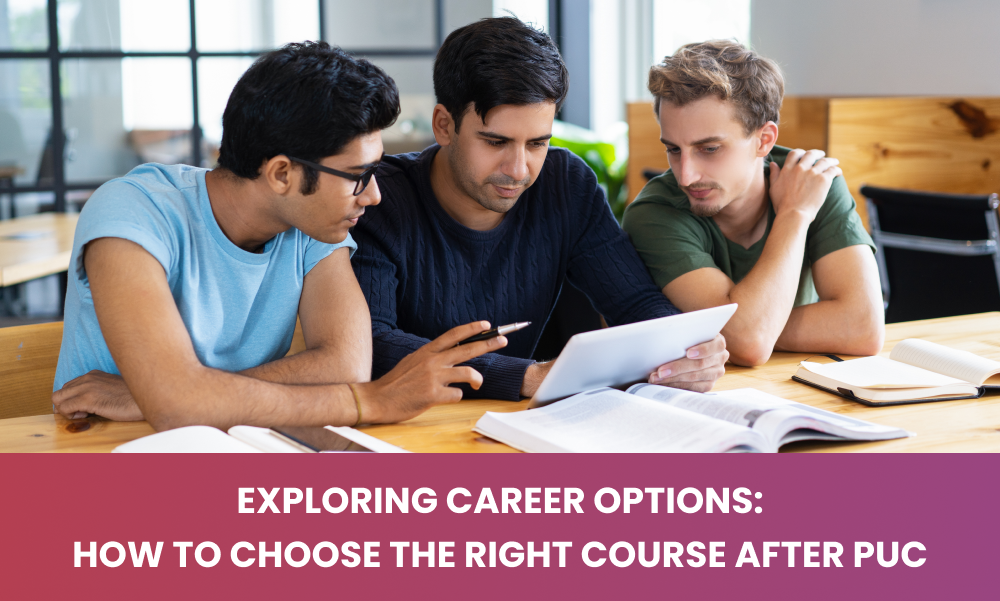 Exploring Career Options:How to Choose the Right Course After PUC
Author : By MITACSC 2023-07-06 03:30:39

---
I. Introduction

Pre-University Courses (PUC) are educational initiatives that act as a bridge between secondary education (high school) and higher education (college or university). After completing a pre- university course (PUC), students should consider their future possibilities to remain flexible in a work environment that is continuously evolving. They may obtain in-demand skills and maintain their competitiveness while staying ahead of new trends. People may make educated decisions that result in a rewarding and successful professional journey by thinking about numerous job options. It also offers the chance to learn insightful lessons from experts in many industries, boosting knowledge growth. Exploring employment possibilities ultimately gives people the power to direct their destinies and realize their full potential.

CAREER OPTIONS AFTER PUC

People can choose from a variety of careers after finishing Pre-University Courses (PUC). Several common job pathways include: For Science Stream:



B.E/B.Tech
B.Sc
B.Arch
Integrated M.Tech
Commercial Pilots
MBBS
B.Pharma
BDS
Nursing Courses
Paramedical Course


For Commerce Stream:


B.Com in Accounting and Commerce
CA (Chartered Accountant)
CS
BBA LLB
BBA LLB


For Arts Stream:


BA (Humanities and Sociology)
BFA (Bachelor of Fine Arts
BA LLB
BCA
B.Sc. (Design)
BMM (Bachelor of Mass Media)
BJMC (Bachelor of Journalism & Mass Communication)
BBA LLB
BA in Animation
B.Sc. (Hospitality & Travel)
BHM (Travel & Hospitality)
Diploma in Education (DEd)
BA (Travel, Hospitality)
B.Des (Design, Animation)
B.Com (Accounting and Commerce)




TIPS CHOOSE THE RIGHT PATH AFTER PUC





Self-Reflection: Give yourself some time to consider your passions, interests, talents, and values. Think about the topics or pursuits you found enjoyable throughout your PUC as well as your future goals. Your career will be guided by your self-awareness and will reflect your genuine goals.




Research and Explore- Do an extensive study on the range of professional alternatives you have. Look at various fields, professions, and prospective career paths. Investigate internet resources, go to job fairs, and make contacts with experts in your desired industries. You will gain important knowledge from this that will help you make a wise choice.
Seek Advice: Consult career counselors, professors, mentors, and experts in your selected field for advice. They may share their knowledge, provide insightful guidance, and shed light on the practical facets of many professions. Your decision-making will be more informed by their advice.
Consider Further Education: Determine whether additional schooling is advantageous or necessary for your selected professional path. Consider pursuing undergraduate or graduate degrees, professional certifications, or specialized training programs after researching the educational prerequisites for the field you want to work in. This will provide you with the certifications you need and improve your knowledge and abilities.
Gain Practical Experience: Look for chances to acquire practical experience through volunteer work, internships, or part-time jobs. You will gain a practical grasp of the sector from this hands-on training, which will also help you build useful skills and choose your career path wisely. Additionally, it might help you network and increase your chances of finding a job in the future.
SUGGESTIONS FOR CHOOSING THE BEST CAREER PATH FROM MIT ACSC
It might be difficult to make the right career choice, but MIT ACSC gives you a big advantage. MIT ACSC offers you a few of the top colleges in Pune including courses in Computer Science, B.Com, and BCA among many more which provides you with industry-relevant skills, knowledge, and the self-assurance to succeed by offering specialized training and certifications in cutting-edge sectors. The standing and reputation of MIT lend credibility to your qualifications, and networking and mentoring opportunities let you meet professionals and business titans who may serve as mentors and role models. You will receive the tools, resources, and priceless connections needed to succeed in your chosen area at MIT ACSC thanks to its individualized career assistance and emphasis on practical learning. Investing in MIT ACSC will open up a world of limitless opportunities for your future professional success.
CALL TO ACTION
MIT ACSC offers the ideal setting to develop your abilities and forge your future with a dedication to excellence in education, a wide selection of programs, knowledgeable instructors, and a dynamic campus community. Join us as we begin a revolutionary educational journey that will equip you with the know-how, abilities, and networks you need to succeed in the fast-paced environment of today. Don't pass up the opportunity to participate in something remarkable. Join MIT ACSC now and embrace a future filled with endless possibilities.